Peltarion Website Privacy Policy
Last updated: 26 April 2018
In this website privacy policy you can read more about how Peltarion AB, reg.no 556627-0129 ("Peltarion", "we", "us" or "our") may process your personal data when you are visiting peltarion.com. Peltarion is data controller of any processing of your personal data.
If you have signed up for a user account at peltarion.com, your personal data will also be processed in accordance with our Privacy Notice User Accounts.
What personal data do we process?
We collect personal data when you (i) sign-up for a mailing list or request news and information, (ii) voluntarily complete surveys or similar, and (iii) visit peltarion.com. Such personal data will include your name, e-mail address, IP address and other information that you voluntarily provide us.
Purpose, legal ground and storage period
We will only use your personal data for the purposes, and on the basis of the legal grounds, as set out below. We will not use your personal data for any purpose that is incompatible with the below purposes. Further, we will only use your personal data during the period as set out in the right column, after such period your data will be erased.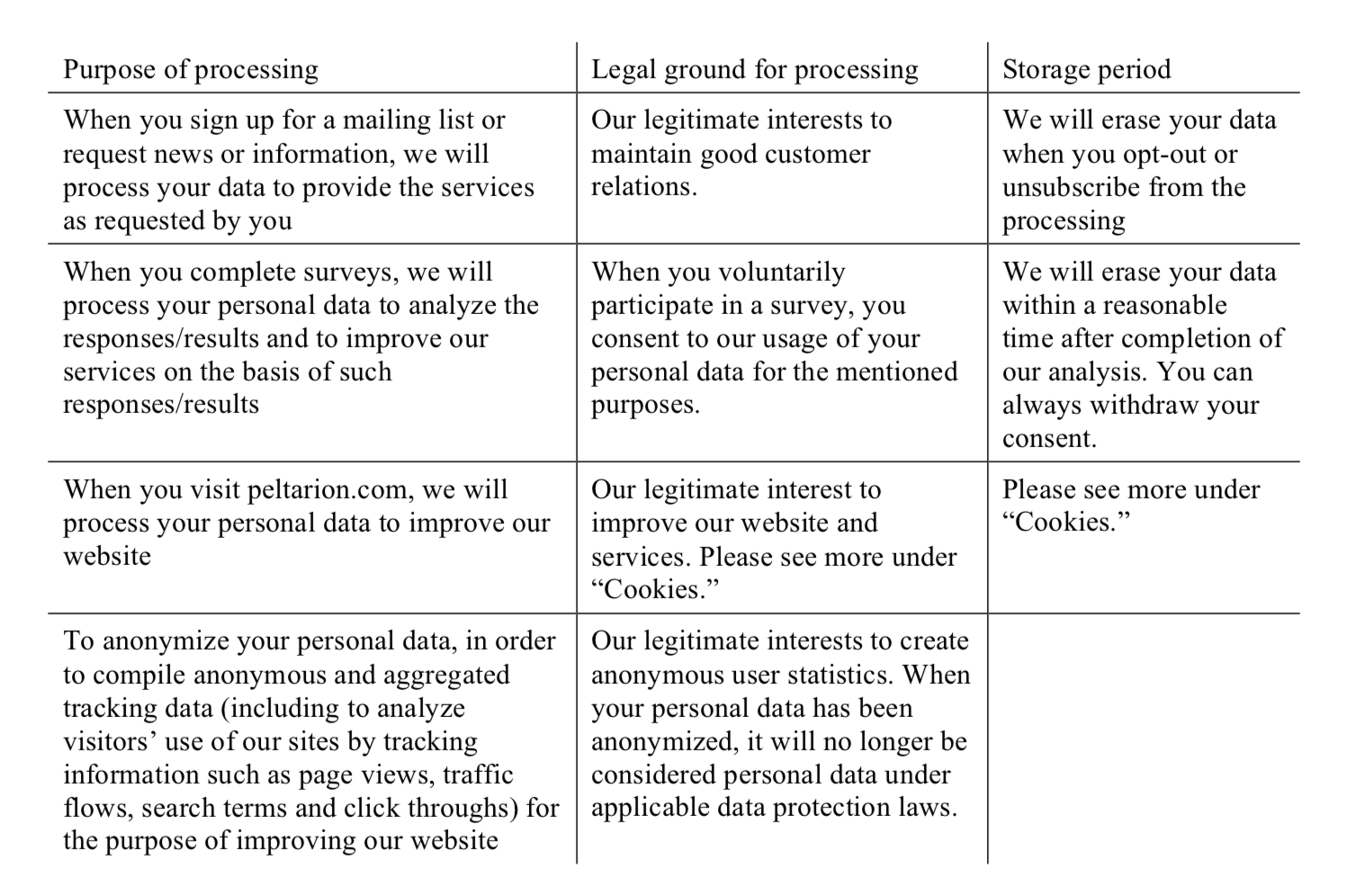 Please note that the above storage periods do not apply to the extent Peltarion is required to retain your personal data (partly or in full) for a certain period under applicable mandatory law.
Who do we share your personal data with?
To achieve the purposes, we may share your personal data with our subcontractors. Such subcontractors provide storage services, advertising services and services for troubleshooting and correction of any defects in our website.
Some of our subcontractors may process your personal data outside the European Economic Area (EEA). However, a transfer will only occur, if there is a legal ground for the transfer, e.g. by (i) executing EU standard data protection clauses with the recipient of the personal data, or (ii) ensuring that the country has an adequate level of protection of personal data, as decided by the EU Commission, or (iii) for transfers to and processing in the USA, ensuring that the recipient holds self-certifying registrations under the EU-U.S. and the Swiss-U.S. Privacy Shield Frameworks administered by the U.S. Department of Commerce's International Trade Administration.
Your rights
You are entitled to the following rights under applicable laws:
The right to access: you may at any time request to access your personal data. Upon request, we will provide a copy of your personal data in a commonly used electronic form.
The right to rectification: you are entitled to obtain rectification of inaccurate personal data and to have incomplete personal data completed.
The right to erasure ("right to be forgotten"): under certain circumstances (including processing on the basis of your consent), you may request us to delete your User Data. Please note that this right is not unconditional. Therefore, an attempt to invoke the right might not lead to an action from us.
The right to object: to certain processing activities conducted by the us in relation to your personal data, such as our processing of your personal data based on our legitimate interest. The right to object also applies to processing of your personal data for direct marketing purposes.
The right to restriction of processing: you may under certain circumstances request from us to restrict the processing of your personal data. Please note that this right is not unconditional. Therefore, an attempt to invoke the right might not lead to an action from us.
The right to data portability: you are entitled to receive your personal data (or have your personal data directly transmitted to another data controller) in a structured, commonly used and machine-readable format.
Finally, you also have the right to lodge a complaint with the supervisory authority, which in Sweden is Datainspektionen.
Cookies
As part of our approach to providing personalized services on our website, we use cookies to store and sometimes track information about you. A cookie is a small data file sent to your browser from a web server and stored on your hard drive that allows easier access the next time the same page is visited. For example, a cookie is sent when you sign-up to download products or information on our website.
We use two types of cookies: persistent cookies and session cookies. A persistent cookie helps us recognize you as an existing user, so it's easier to return to our website or interact with our services without signing in again. After you sign in, a persistent cookie stays in your browser and will be read by us when you return to our site. Session cookies only last for as long as the session (usually the current visit to a website or a browser session).
We use cookies to recognize you when you visit our website, remember your preferences and give you a personalized experience that is in line with your settings. Cookies also make your interactions with us faster and more secure. Also, cookies allow us to analyse how well our website performs and to understand, improve, and research products, features and services.
If you do not want your personal information to be stored by cookies, you can configure your browser so that it notifies you whenever a cookie is received. This way you can decide each time to accept cookies or not. However, the use of cookies may be necessary to provide certain features and choosing to reject cookies may reduce the functionality of our website. Your browser should include precise instructions explaining how to control the acceptance of cookies.
Data security
In order to keep your personal data secure, we have implemented a number of technical and organizational security measures. For example, we maintain high levels of technical security in all systems (including traceability, disaster recovery, access limitations etc.) and we have adopted policies to ensure that our employees only access personal data on a need-to-know basis.
Contact information
If you have any questions relating to our handling of your personal data or our use of cookies or if you would like to invoke any of your rights under applicable privacy legislation, please send an e-mail to privacy@peltarion.com.
Changes to this website privacy policy
If we change how we handle your personal data or how we use cookies, we will promptly update this website privacy policy and publish it on this website.