As AI projects hit the mainstream across industries, there's a lot of hype and fervor about AI's potential to solve real business problems. But the reality of the current state of AI is that without the right platform, it's not yet achievable for many organizations.
You might embark upon an AI project with the best of intentions, but the likelihood is that you'll end up regretting it as you spend endless time, money and resources without ever achieving the payoff you'd dreamed of.
I call this common AI experience "AI purgatory." It might not sink your company, but it will certainly deflate your enthusiasm over time. It consists of several layers, sort of like Dante's Inferno, in which humans who have gone astray are doomed to concentric circles of torment.
This is a dramatic metaphor, of course, but still apt. Like Dante's Inferno, AI purgatory consists of multiple layers you must navigate through along your AI journey. The very first layer of AI purgatory is the common disconnect between your AI project and your greater business.
AI is not an IT thing
For an AI project to be successful, it requires a fundamental shift in your technology (and your thinking about your technology) across the entire organization. The very beginning of any successful AI project is a deep foundation of knowledge about where AI would be best applied. Everyone, from IT to the C-level, must be on board.
"You can't outsource your thinking, and you can't fake your data"
Without this shift in thinking and planning, an AI project is doomed to languish in purgatory. But even once the company is holistically on board with AI as a transformational business driver, you're not close to in the clear.
Data is everything
For an AI project to be successful, you need access to continuous, abundant data in a predictable, reliably way. Without good data – and lots of it – no AI project can succeed, and this can be tough even for digital-native companies.
Data is complex, messy and dynamic. Getting access to data and making sure you have a continuous and fresh supply of it in a predictable and reliable way is one of the most challenging elements of any AI project. Without good, constant data, your AI project cannot succeed.
These first two levels of AI purgatory are fundamental. You must solve for them before you can proceed. If your organization is not thinking AI-first, you'll never identify the areas where AI could bring the most value. You can't outsource your thinking, and you can't fake your data.
Now for the good news
But as we proceed through the other five levels of AI purgatory (there are seven in total), there are ways in which you can enlist third-party operational AI platforms to help navigate other common AI project challenges.
There is an overwhelming array of tools available, and the options shift and grow constantly. The great majority of these tools are not appropriate for business, because they were developed for academic and research purposes. This can lead to many issues while you are building and training models, then promoting and maintaining in live production.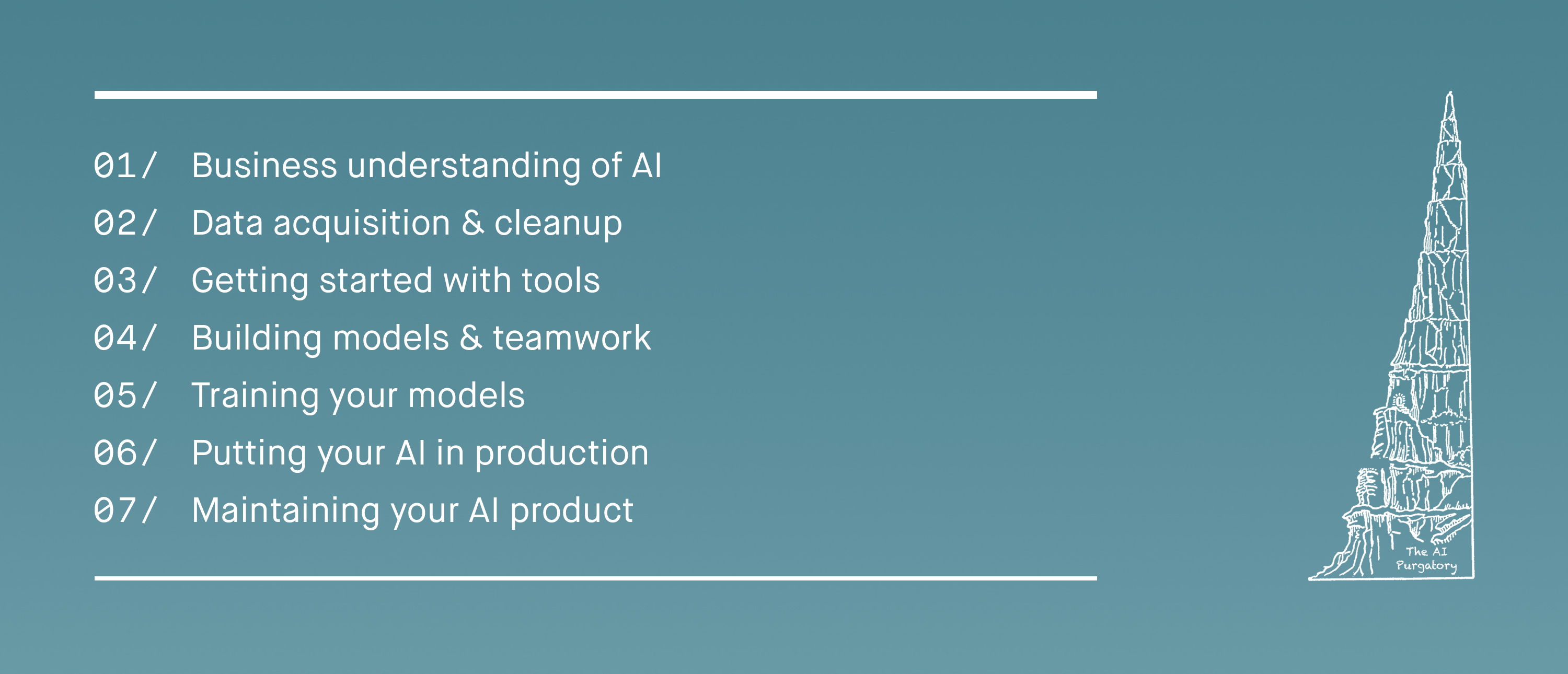 An operational AI platform can act as a commercial bridge to AI technology and help you avoid owning the tasks of perplexing and laborious tool research and model coding and training. The practical development, production and maintenance of your AI model is where your AI project will be "made or broken." Data and business philosophy are critical foundations, but without the proper platform software, resources and support throughout the life of the project, your outcomes will be crippled.
---
For a detailed breakdown of the 7 levels of AI purgatory and how an operational AI platform can help you break out, download our free whitepaper "The 7 levels of AI purgatory and how to escape them."